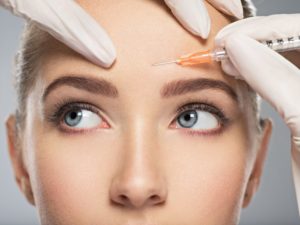 If any drug is a "wonder drug," it might just be Botox. Developed from botulinum toxin, Botox has been around for decades and was originally used to treat issues with the eye muscles.
Botox's evolution into a cosmetic treatment happened almost accidentally. People receiving Botox injections to treat their eye problems also noticed that their wrinkles were becoming less noticeable. As a result, doctors started performing Botox injections for cosmetic reasons.
A few years later, in 2002, the FDA approved the injectable for use in smoothing the lines that develop between the eyebrows, often known as the "elevens" or "frown lines." More FDA approvals followed, including approving the treatment for use on the crow's feet and, most recently, an approval for using Botox to treat horizontal lines on the forehead.
As it turns out, however, Botox can do much more than treat wrinkles or ease strabismus (a problem with the eye muscles). Some additional uses of Botox have already been FDA-approved, while others are still technically "off label," meaning a doctor can use Botox for a generally accepted reason, but the tests and trials haven't been done yet to win approval from the FDA.
So what else can Botox do for you? As it turns out, quite a lot.
Migraine Relief
If you have chronic migraines, meaning you have a migraine on 15 or more days out of the month, then you've probably been searching high and low for some long-term relief. Chronic migraines can make it incredibly difficult to get anything done or to live a comfortable, productive life.
Fortunately, the FDA has now approved Botox for use as a treatment for chronic migraines. Botox for migraines involves injecting the drug into several areas on the head and neck. Botox blocks the pain signals that lead to a migraine, helping to provide relief. Usually, people who are treating chronic migraines with Botox need a series of treatments to get the best results. Many start to see a difference after the second or third treatment session.
TMJ Disorder Relief
TMJ disorder is a relatively common problem that affects the jaw joint. People with TMJ often experience clicking or popping noises in their jaw, tension or pain in the area around the jaw and ears, and may have difficulty opening their mouth.
While Botox hasn't been FDA-approved yet for use as a treatment for TMJ disorder, some doctors have performed the injections on patients experiencing TMJ disorder symptoms and have found that those patients have experienced relief from their symptoms.
Botox for TMJ disorder might work in a way that's similar to how the treatment works for migraines. The injections block pain signals to the jaw area. Botox also helps the masseter muscle, which controls the jaw, relax, which can reduce tension in the area.
Clearing up Acne
Another surprising way that Botox can help patients find relief is by potentially clearing up acne. Botox for acne isn't yet FDA-approved, but some doctors have found that patients who have Botox injections in their foreheads (to smooth wrinkles) also notice a decrease in acne in the area. One reason for that could be that Botox minimizes sweating, which means that there is less oil on the skin to potentially clog pores.
It's worth noting that there are other ways to clear up or treat acne, which might be more effective and less expensive than Botox. Effective acne treatments include chemical peels and IPL laser treatments.
Improving a Gummy Smile
When some people smile, their upper lip lifts up high enough to expose not only their teeth but a considerable margin of their gums, too. Known as a gummy smile, it can make some people feel self-conscious.
Injecting Botox into the muscle that controls the upper lip can help to correct a gummy smile, at least for a few months. Botox relaxes the muscle so that it doesn't lift the lip up quite so high. Botox for a gummy smile hasn't yet been FDA-approved, but some doctors do offer it as an option.
Easing Depression Symptoms
Some trials and studies have examined the effectiveness of Botox for easing the symptoms of depression. The studies have been small, but most have suggested that Botox injections can be helpful in easing depression symptoms.
One of the reasons why Botox might be helpful for people with depression is that the injections prevent people from frowning or making similar facial expressions associated with feeling sad. There's a chance that being unable to make those expressions can actually help improve a person's mood.
Although there have been some studies and tests, Botox is yet to be FDA-approved as a treatment for depression.
Dr. Paul Vitenas offers Botox injections at Mirror Mirror Beauty Boutique in Houston, Texas. If you're interested in Botox for any reason and want to learn more about what it can do for you, call 281-810-9083 to schedule your consultation today!