As we age, the tissues of the face slowly lose elasticity, no longer clearly defining our features. The features become sharp and sunken; the healthy fullness is lost.
The tired, unhealthy, 'hollow' appearance that results cannot be repaired with the use of creams or lotions, nor can it be concealed with makeup; a medical intervention will be required to restore youthful-looking skin.
Radiesse is a dermal filler, composed of a calcium-based gel, designed to restore lost facial contours. Radiesse creates a structural frame for the lower layers of facial tissues, smoothing the skin, while at the same time, encouraging the body's natural production of collagen. With Radiesse, the foundation of the skin is rebuilt and reinforced, providing long-lasting facial rejuvenation.
Radiesse is excellent at adding volume and shape to the features, bringing symmetry and balance to the face. The popular dermal filler is ideal for reducing dark hollows under the eyes, creating more prominent cheek bones, filling in deep facial creases, and creating a more prominent chin or jawline. *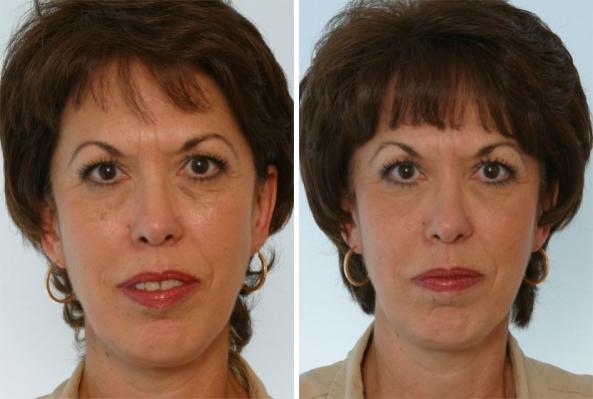 Who is a good candidate for Radiesse?
Patients looking to improve their aging appearance, but who are not yet ready for an invasive procedure, can discover the benefits of Radiesse injections. Healthy men and women, looking to replenish lost facial volume can make excellent candidates for a treatment with Radiesse. *
How is Radiesse applied?
A treatment with Radiesse takes less than an hour in the office. To maximize a patient's comfort level, a local anesthetic or dental block will be administered prior to treatment. Using a very thin needle, Radiesse is placed under predetermined areas of the skin.
Radiesse requires no downtime. Immediately after treatment, patients may experience slight redness and swelling at the injection site. Although this resolves quickly, some patients prefer to resume work or school after these symptoms diminish. There are no restrictions after a Radiesse treatment, so vigorous exercise can be resumed that day.
The benefits of Radiesse can be appreciated immediately after a treatment. Additionally, as a natural result of the increased Collagen production, the appearance will continue to improve over the following months. The benefits of Radiesse will last between 18 and 24 months, although many patients will not require a repeat treatment for over two years.
Speak with Dr. Vitenas or your provider at Mirror Mirror Beauty Boutique to find out if Radiesse is the right treatment to rejuvenate and refresh your appearance. To further enhance and maintain your results, allow us to recommend complementary procedures, such as Botox Cosmetic and Juvederm to fight fine lines and wrinkles. *
Radiesse FAQs
What is Radiesse?
Radiesse is a dermal filler composed of Hyaluronic Acid. The product is designed to smooth deep facial lines and to restore volume under the eyes. *
What areas can be treated with Radiesse?
Radiesse is an excellent facial filler. Patients most often use Radiesse to replace lost volume in the cheeks, under the eyes, and across the jawline. Deep facial creases can also benefit greatly from Radiesse. *
How is a Radiesse treatment performed?
After placing a local anesthetic, Radiesse will be applied to predetermined areas of the face, using a very small needle. *
How long does a treatment with Radiesse take?
From start to finish, a treatment with Radiesse will take less than an hour. *
Where is a Radiesse treatment performed?
Radiesse injections are performed in the office, located in the heart of Houston. *
Am I a good candidate for Radiesse?
The ideal candidate for Radiesse is any man or woman looking to improve their appearance by restoring facial volume and balance. *
Will anesthesia be used during Radiesse injections?
Yes, depending on the exact area being treated, either a local numbing agent will be used or a dental block. *
Is Radiesse painful?
Radiesse injections are not considered painful. Patients normally report a mild pinching sensation. To alleviate any discomfort, a local anesthetic or dental block will be used prior to treatment. *
What can I expect from the Radiesse recovery period?
Initially after Radiesse injections, patients may experience mild swelling and redness, although these will quickly fade. Normal activities and exercise can be immediately resumed. *
When can I return to work after my Radiesse injections?
Patients are able to return immediately to work or school after a Radiesse treatment. Some people, however, prefer to wait until the next day to resume normal activities so that all redness and swelling have diminished. *
Are the results from Radiesse permanent?
While results from Radiesse are not permanent, they are long-lasting. Patients can see benefits from Radiesse last two years or longer. *
What are the possible risks of Radiesse?
Radiesse is an extremely safe and effective dermal filler. On the rare occasion, swelling, redness, and bruising may occur . *
How much will a treatment with Radiesse cost?
The exact cost of a Radiesse treatment will depend on many factors, including the location and amount of correction required. One syringe of Radiesse will cost between $400 and $650. At least two syringes will be required to achieve full correction. Discounts can be applied on multiple syringes. At your consultation appointment, Dr. Vitenas will determine the exact cost of your Radiesse treatment plan.
Can I finance my Radiesse injections?
Mirror Mirror Beauty Boutique accepts various forms of payment for your convenience. These include cash, personal check, all major credit cards, and financing through CareCredit.