As we age, we naturally lose firmness and elasticity due largely to loss of collagen strength and integrity. This leads to excessive skin laxity, lines, and wrinkles, which may make us look older than we feel. Ultherapy is an FDA-approved non-invasive procedure that lifts the skin of the face, neck, chin, and chest. The ultrasound technology stimulates healthy collagen production, resulting in a more youthful appearance. In this article, we will discuss what to expect during and after the Ultherapy treatment, as well as the role ultrasound technology plays in this alternative to cosmetic surgery.
Understanding Ultherapy: A Non-Invasive Procedure for Skin Rejuvenation
The Ulthera Lift is a non-surgical alternative to a traditional facelift. It offers patients a chance to achieve a more youthful appearance without the risks and downtime associated with invasive surgery.
How Collagen Production Enhances Appearance
Collagen is a natural protein that forms a structural network of fibers within the skin. Its unique structural architecture provides strength and elasticity, which gives the skin a firm and supple texture. This contributes to a more youthful and toned appearance.
Ultherapy uses focused ultrasound energy to stimulate new collagen production deep within the skin's layers. As collagen is gradually produced, the patient experiences progressive skin tightening and lifting. This new collagen also helps to fill in volume lost with aging, thereby "plumping up the skin". This enhanced support to the skin surface minimizes the depth and visibility of facial lines. With sufficient new collagen, the skin appears smoother and more youthful.
How Does Ultrasound Technology Work?
Ultherapy utilizes micro-focused ultrasound technology to deliver targeted energy to the skin's deeper layers. It targets the same foundational layers that are typically addressed in surgical facelift procedures. However, because the ultrasound energy bypasses the surface layer, there is no damage whatsoever to the outer skin as occurs with surgical procedures.
The same technology used in Ultherapy has been safely employed in medical imaging and diagnostic procedures for decades, making it a trusted and proven method of skin rejuvenation.
Preparing for Ultherapy
One of the benefits of Ultherapy treatments is that there are no pre-or post-treatment skincare requirements. This makes it a convenient option for many patients. It is also safe for all skin types.
The Consultation
It is important to schedule a consultation with a licensed Ultherapy provider before undergoing the procedure. During the consultation, your provider will discuss your aesthetic goals while also assessing your skin to determine if Ultherapy is the appropriate treatment for your specific concerns. It is imperative that realistic expectations are adequately addressed. Mirror Mirror Beauty Boutique in Houston offers clients complimentary consultations to evaluate their skin, discuss their medical history, and answer any questions about the procedure. This consultation allows our providers to create a customized treatment plan that is uniquely tailored to each patient's specific needs, thereby ensuring the best possible outcome.
Ultherapy Procedure Day
Before beginning your Ultherapy treatment, your provider will cleanse your skin to remove any makeup, dirt, or oil. Next, the provider will apply a layer of ultrasound gel to the target area. This helps the Ultherapy device glide smoothly across the skin and enhances the transmission of ultrasound energy.
With the Ultherapy device placed against the skin, the provider uses real-time imaging to visualize the precise targeted tissue layers beneath the surface. This ensures that the focused ultrasound energy is delivered exactly to the areas where it will be most effective in stimulating maximum collagen production. The device is then glided across the skin, delivering controlled pulses of ultrasound energy at various depths. This process is repeated until the entire targeted area has been comprehensively treated.
Most patients require one Ultherapy treatment. However, depending upon the degree of laxity, a second session may be required to achieve the most ideal results.
How Ultrasound Gel and Energy Contribute to Effective Results
Ultrasound gel serves as a conductive medium that allows the focused, ultrasound energy to penetrate the skin efficiently. The gel is applied to facilitate uniform and effective delivery to the targeted tissue layers. This helps to maximize the treatment's efficacy while minimizing any discomfort or potential side effects.
The focused ultrasound energy is the driving force behind the Ultherapy treatment. It works "from the inside out". By targeting the underlying tissue, this energy creates a controlled and precise heat that stimulates the body's natural healing process and encourages the production of new collagen. This new collagen growth helps to lift and tighten the skin, resulting in a more youthful and rejuvenated appearance.
Ultherapy Treatment: What to Expect
Depending on the total surface area and number of areas being treated, the duration of an Ultherapy treatment will vary. Generally, the face and neck procedures take between 60 to 90 minutes, while treatments targeting the upper chest area can be completed in approximately 30 minutes. Your provider will give you a more accurate estimate of the treatment time during your consultation, based on your specific treatment goals.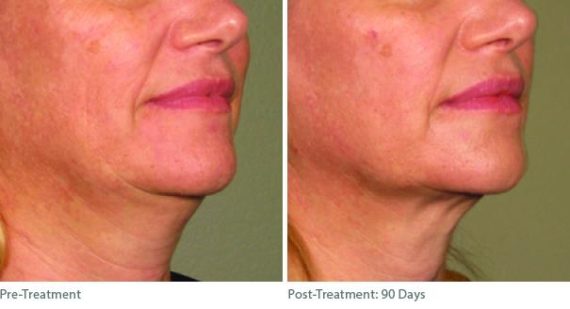 Returning to Normal Activities
One of the primary advantages of Ultherapy is no downtime. Immediately following the procedure, most patients can resume their normal activities. In addition to the benefit of no downtime, patients can resume strenuous exercise right away.
Temporary Side Effects
Although Ultherapy is a non-invasive procedure, some patients may experience temporary redness, swelling, tingling, or tenderness in the treated area. In most cases, the side effects dissipate quickly, allowing patients to return to their daily routines without any significant discomfort.
Unveiling the Results: The Gradual Effect of Ultherapy
Patients will observe an immediate enhancement in the texture and tightness of their skin following their Ultherapy treatment. Patients can also expect to see gradual improvements in their skin's appearance over 3 to 6 months following the treatment. This timeline allows for a more natural-looking result as the skin's collagen levels increase and the skin becomes firmer and more youthful.
Maintaining Your Ultherapy Results
Because lifestyle and the individual aging process play a significant role in the skin's overall appearance, the longevity of Ultherapy results varies from person to person. Mirror Mirror Beauty Boutique, overseen by renowned plastic surgeon Dr. Paul Vitenas, recommends an annual touch-up treatment to maintain the results. However, some patients may find that their results last much longer.